Garbage
After composting, recycling and recovery at the ecocentre, there's almost nothing left to put in your garbage bin.
An estimated 85% of household waste can be composted, recycled or reclaimed at an ecocentre. We appreciate your help keeping waste out of our landfills!
Accepted materials
Waxed or laminated cardboard containers
Plastic wine corks
Strapping
Diapers
Ear swabs and dental floss
Pallet wrapping
Snack packaging or snack bar wrapping
Multi-layered packaging
Plastic or bubble mail envelopes
Photos or laminated paper
Small yogurt containers
Small yogurt containers #6
Plastic labelled with a 6 or 7
Plastics with no number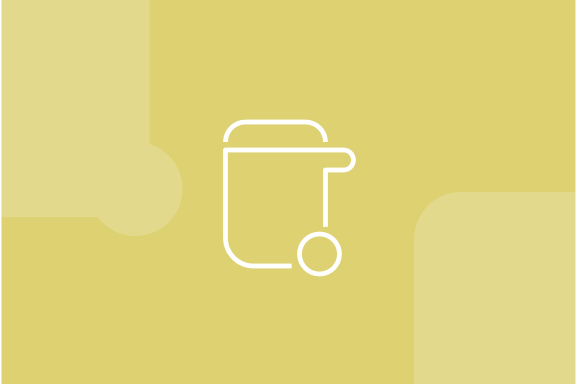 Tobacco products
Sanitary products
Chip bags
Styrofoam food packaging
Soiled fabrics
Plastic utensils
Broken dishware
Compostable or biodegradable plastic dishware and packaging
Coffee cups and lids
Note: Garbage bags and any other materials placed outside the rolling bin will not be collected.
Refused materials
Water heaters and air conditioners
Household appliances
Mattresses
Furniture
Tires
Wood
Concrete
Bricks
Ceramic
Gypsum
Stone, gravel and sand
Doors and windows
Propane tanks
Used filters and oil
Paints, stains and solvents
Pesticides and fertilizers
Batteries
Chemical products
Medications
Electronics
Syringes
Refused materials can be taken to the Cowansville regional ecocentre. Syringes and medications should be returned to your drugstore.
Tips and tricks
In order, always choose to Reduce at the source ("Do I really need it? Can I refuse it?"); Reuse ("Could it be used for something else?"); Recycle ("Can I put it in the blue bin?"); and Reclaim, to avoid Disposing of items in landfills.
Although the majority of waste is generated in the kitchen, don't forget to have compost and recycling containers for paper tissues and towels (organic materials) and cardboard rolls in the bathroom (recyclables).
The same goes for recyclables and hazardous materials generated in the garage.
For easier waste sorting, put all your different containers (recyclable materials, organic materials and trash) in one easily accessible spot.
Thinking of renovating your kitchen? Take into account your waste management station when designing your plan.
Put batteries, electronics, styrofoam, etc. in this box as needed, and when it's full, take it to an ecocentre.
Myths
FALSE.
When organic matter decomposes in a landfill with other waste, it releases methane, a greenhouse gas 25 times more harmful to the environment than CO2.
On a composting platform, organic matter decomposes in the presence of oxygen. It doesn't produce methane, but rather CO2. Composting is therefore a more environmentally friendly way to dispose of organic materials.
Also, composting gives a second life to organic materials by transforming them into compost, which prevents them from going to waste.
FALSE.
It's better for the environment to recover a jar even if it is slightly dirty. Rinsing containers will help avoid unpleasant odours and nuisances for workers at the sorting centre.
FALSE.
Sorting centres make their money from the sale of recyclables, so they have no interest in disposing of them. Recyclables have a monetary value.

More than one million tonnes of recyclable materials are sent to Quebec's sorting centres every year!
Ultimately, the goal is to only dispose of materials that cannot be composted, recycled or reclaimed. In doing so, our landfills can last even longer.